A Journey across Latin America
Chef Mikko Tamarra
Chef Tamarra's kitchen experience has brought him across Mexico, Peru, Colombia, through Toronto and eventually to Calgary. His experience cooking at some of the world's best and most renowned restaurants (Pujol - Mexico City, Astrid y Gastón - Peru, Criollo - Oaxaca) has given him rare insights into the varying techniques, styles, and foods of Latin America, and the skillset required to elevate Calgary's local ingredients to a heightened degree of excellence.

Growth in Calgary
Building on his already thriving Taqueria, Chef Mikko Tamarra unleashes creativity and style, drawing on his experience cooking across many different regions in Latin America. Chef's back-of-house team includes pastry chef Teisha Huff, who has created a specialized dessert and pastry menu including handmade ice cream, maize flan, and mezcal sorbet, and sous chef Jayme Tallis who has been an anchor in the Calgary hospitality scene previously at Ten Foot Henry. The cocktail and drink menu at Fortuna's Row is designed, created, and curated by Ivana Lovric of Syndicate Hospitality Group.
Over 100 Years of History
A Storied Past
421 Riverfront Ave, re-dubbed the "The Bookers Building" has been around for over a century. Our hunt to find a space that not only matched the style and aesthetic of the places our team visited, but that would set the stage for Chef Tamarra's food ended in this sun beam-lit warehouse. The concrete bones of an aged warehouse, with enormous skylights, unusual room structure, and one thousands interesting imperfections has been restored to new glory at Fortuna's Row.
A Bright Future
While the checkered past of the space is somewhat elusive in terms of exactly what was inside and when; after hours club, aquarium store, church, textile factory... what we do know is that we're establishing a new story for the building with Fortuna's Row. Anchoring the Riverfront between Chinatown and East Village, we are excited to help shape Calgary's evolving food and beverage scene, and help contribute and shape experience-based dining in the city.
Learning & Exploration
A talented collection of hospitality experts, architects, designers, builders, and artists helped reshape the Riverfront building. From tasting our way through Oaxacan history, to exploring Mexico City's best and more renowned restaurants, from humble stages in Lima, Peru to crafting a new story for a historical building, Fortuna's Row is the result of many, many hours of hard work.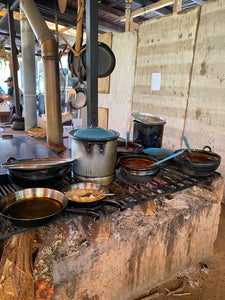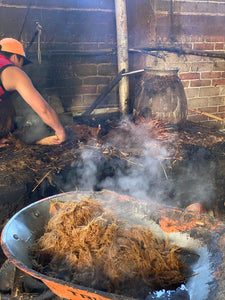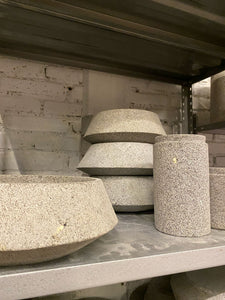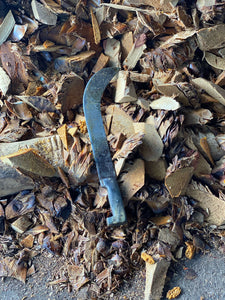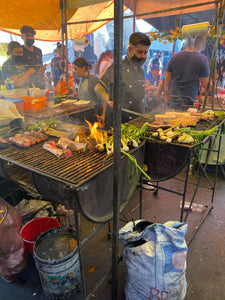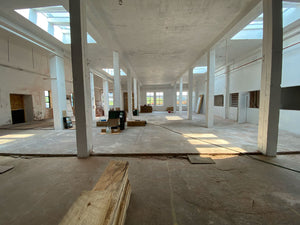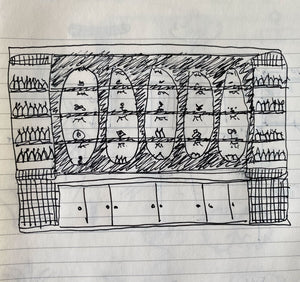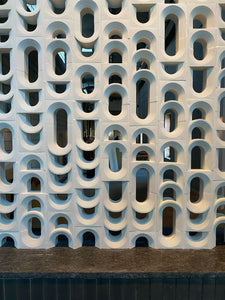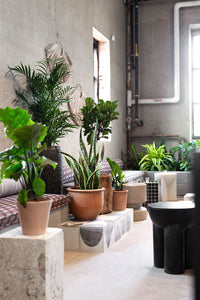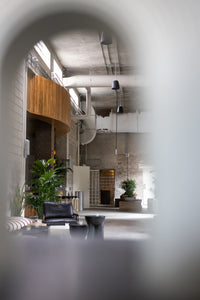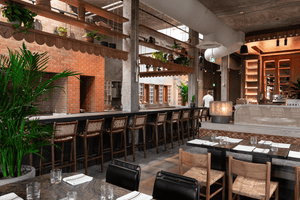 "Fortuna's Row is a 10,000 square foot Contemporary Latin American Supper Club. Situated on the Riverfront between Chinatown and East Village, Fortuna's Row offers a one-of-a-kind dining experience in the city. Airy and beach-inspired fixtures with rich wood finishes complement lush, live plants in a towering concrete warehouse that transports guests far south of the border without ever leaving Calgary's city limits. "