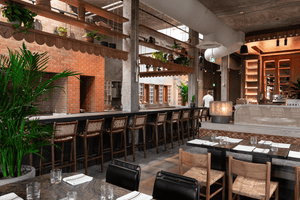 HOUSE RULES
To ensure that all our reserved guests have ample time to enjoy their meal, we provide the following dining times for tables:
☞ Parties of four (4) or less have up to two (2) hours
☞ Parties of five (5) or greater have up to two and half (2.5) hours
If you require more than the allocated time or would like to make any special arrangements, please do not hesitate to reach out to our team at hola@fortunasrow.com
BOOKING & DEPOSITS
Fortuna's Row can accommodate online reservations of up to a limit of 20 guests and requires a $10/person deposit in order to book a reservation. This deposit is refunded to your credit card upon your arrival to Fortuna's Row. No-shows will forfeit the $10 deposit. If you believe your refund has not been applied to your. credit card, please email hola@fortunasrow.com with your booking reference number.
LARGE PARTIES
Groups of seven or greater will be asked to select their preferred harvest menu in advance. Fortuna's Row will prepare food and bill for each guest for large party reservations, if your party size changes, please let us know at least 24 hours in advance of your booking. The total number of guests who are listed on the reservation will be billed. 
Single billing with automatic 20% gratuity applies to parties of six (6) or more. If guests who have booked separately opt to sit together for their dining experience at Fortuna's Row, the same single bill and gratuity policy will apply to the entire group. Please explore our PDR page, or email us at hola@fortunasrow.com for private dining room or any questions on larger party bookings.
DECORUM & STYLE
We suggest upscale, casual attire and do not admit patrons without shoes, wearing tank tops, or sweatsuits. Minors are only permitted during our brunch service. Fortuna's Row does not have a children's menu or high chairs. For yours and other other's enjoyment, we respectfully ask guests to refrain from using flash photography while dining. Please treat staff with respect and we will do the same.
Fortuna's Row offers a full menu with many options for dining preferences and allergens. Please note there are some dishes we cannot adjust to accommodate eating restrictions. Standing Room Only, our bar and lounge, and is managed on a first-come first-served basis and is open Thursday, Friday, and Saturday evenings from 5pm onwards.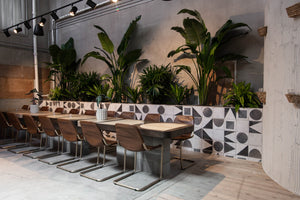 A New Chapter for Hospitality
What is a "Supper Club"
Fortuna's Row is more than just brunch and dinner. We encourage guests to come early and stay late, linger in our S.R.O. bar, or to book our Private Dining Room to host special events. Swing by from Calgary's Riverwalk for a snack, pull up a seat at the bar for a cocktail before dinner, or relax in the lounge after your meal. Fortuna's Row is dinner, drinks and much, much more.
Family Style Service
Our menu is served family style, meaning that our dishes are sized, plated, and designed for sharing. It's our belief that a memorable dining experience involves the entire table. Sharing dishes, flavours, and drinks together are integral to a communal dining experience.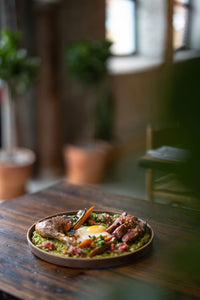 Each Experience, a Story
Fotuna's Row is a multi-stage hospitality experience. We offer our guests a distinct, all-encompassing deviation from normal dining. As part of our effort to create a truly unique venue, Fortuna's Row is divided into separate spaces including a main dining room, bar and lounge, private dining room, a tasting room, all with varying styles of seating and service.
Frequently Asked Questions